Technology Development

Production of Test Equipment by Young Employees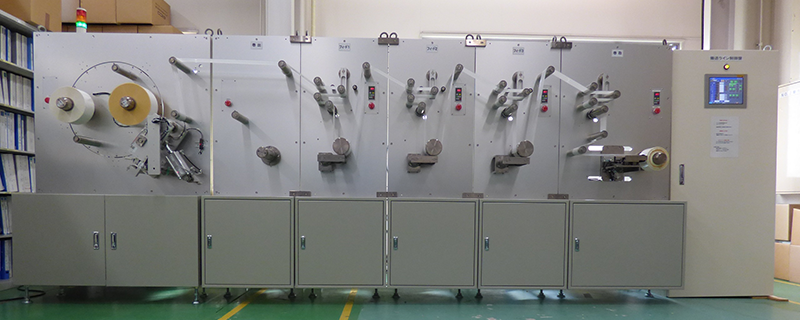 Started production project mainly among young employees in October 2013 Designed and manufactured in-house test conveyor which was completed in September 2014.
Eiko Sokki web conveyor for employee training
Mechanical specification
Line speed 0 to 100 m/min
Base material width 100 mm MAX
Base material type PET and others (10 to 120 μm)
Control tension 0 to 100 N
Tension control method Dancer control/Pickup control (selectable)
Machine configuration
Configuration with each section as a unit
Single-axis unwinder x1
Biaxial unwinder with splicer mechanism (Traveling cutter type) x1
Feed unit x3
Single-axis winder with near roll mechanism x1
Control specification
PLC MP2200 Mechatronics link II communication
Operation: from a 12 inch touch panel
Additional feature: Variable taper tension setting, equipped with data logger
Introduction to test equipment
Equipment has general web conveyor mechanism that enables selection and running of "dancer control" or "pick-up control" for each unit.
Control characteristics of "dancer control" and "pick-up control" can be reproduced and are used for training material and product development.
An unwinder with biaxial turret and traveling cutter type splicer was added in November 2015 creating a machine configuration that is closer to the customer's environment and providing a machine that enables improvement and verification of tension control.
Addition of units with distinctive features is planned, aiming to further improve our technical capabilities.